"Wise, Qualified, Authentic, Intelligent….she brings me always right to my center and heart." DM
A Word From Mary Byerly
I have been gifted to have been the student of amazing teachers.
Those who taught me specific skills for specific results as well as the art of presence to be within the beauty of the moment. Whether I was going for a layup, writing, acting, conducting a meeting or an orchestra, facilitating agreements, connecting with someone who could not communicate with words, researching how our brain is affected by our emotions, or finding the best expression of triangle pose for the person who had recovered from a broken back, in all of these different times of my life, it kept coming back to presence. When I stayed present for whatever moment was in front of me, I felt as though I was connected to an intelligent, compassionate source of energy.
This is why I have continued to practice and teach yoga for all these years – this connection with the deeper layers of my being, this ability to be present for myself and everyone else around me. Yoga, in all its limbs, can only help you become more mindful and aware of all of your life, especially the inner landscape.
As a teacher, I do not make any claims to know it all, nor do I claim to be a perfect yogini. I continue to learn and grow daily in how I can live my yoga. I am passionate about how yoga can bring about all kinds of positive change and growth for everyone, and love to share this with others. I do believe that it is important to know where the teachings of yoga have come from and to understand how I can apply this philosophy in my life, and I share this knowledge with my students. I am not a saint, I am a teacher. I am here to help my students find their inner guru, so that they will have the discernment to take in what makes sense, and to say no thank you to that which doesn't serve them. I do not want blind followers. I look for students who are ready to take responsibility for their life, their practice, their growth, and to contribute to raising the consciousness of the world a little bit through their own dedication and actions.
If you are ready for this kind of yoga, let me know.
Namastè,
Mary
Mary is a wise teacher with a wealth of inspiration and knowledge, and because of that she is able to encourage and teach us how to find that very same wise teacher within ourselves. AK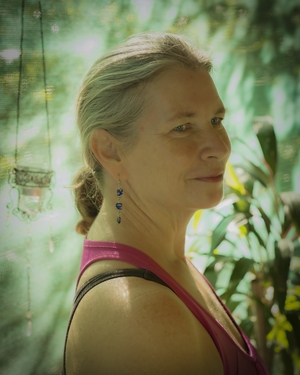 Mary Byerly is the most inspired and passionate Yoga teachers I have ever met and she is genuinely devoted in passing on her knowledge to Yogis. She gave us a strong method as well as tons of useful pieces of advice on how to teach Yoga but more than that she helped us to teach with love and wisdom. Workshops, self-practice, theory, books and videos, Mary provided us with a large panel of resources and a broad vision of Yoga, selecting different approaches for us to discover. Paying particular attention to injuries or simply to physical differences and diversity of abilities within people, Mary is very careful of developing teachings adapted to each person. If you have a strong desire to learn how to teach yoga with inspiration and to dig into an inward journey, this teacher training has been made for you and it will help to discover what you are all about! C.J.
Bio
Mary Byerly has been practicing yoga for over 25 years, and has been teaching for 15 years. She is an E-RYT 500 hour registered teacher with Yoga Alliance, having studied with master teachers from the Iyengar and Tantra/Hatha lineages. Mary has continued her education through workshops with her main teachers, classes from instructors of various styles, as well as in-depth study of yoga philosophy, anatomy, and bio-mechanics.
Mary's teaching is firmly grounded in the classical traditions of hatha yoga; her approach – honed over years of leading small classes, workshops, retreats, and teacher-trainings to a wide variety of practitioners – incorporates a thorough knowledge of anatomy with a deep intuition about what can best serve each student at any given moment. She uses the vast array of techniques in the yoga toolbox: asana, pranayama, kriya, mantra, mudra, bandha, yoga nidra, and meditation.
Emphasizing individualized alignment and a balance of strength with flexibility, she encourages her students to breathe deeply and to connect with their inner teacher, to open up to the wisdom and peace of the heart. Whether helping a newer student learn the body mechanics of poses or guiding a long time practitioner to find a deeper level, Mary's expertise enlightens the practice.