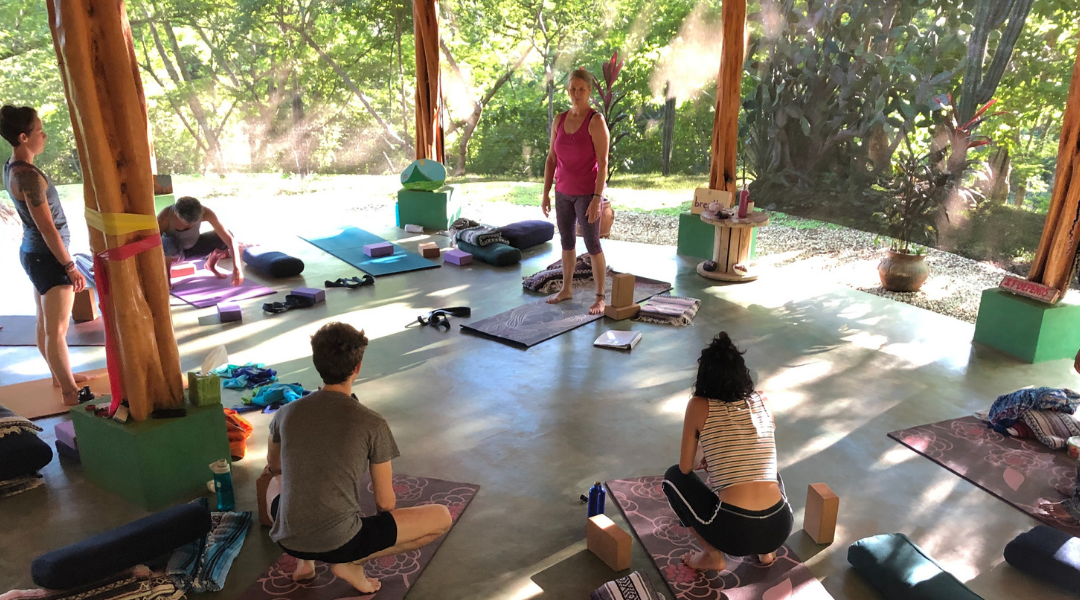 The Value of Yoga Teachers
I have had the chance this past year to spend some more time studying with a variety of teachers.  I have been delving a bit deeper into biomechanics and anatomy to support my understanding of how to work with different bodies in my own teaching.  I have gotten to take some classes with some really great yoga scholars on what is emerging in new information on yoga history and philosophy.  I have delved more into the Bhagavad Gita to see why this can be such a guiding light for so many.  And I have continued my personal practice and study with a dedicated cohort of the Vijnana Bhairava Tantra, about a thousand years old, along with continuing my study of the path of Classical Tantra (not the new age, its only about sex stuff).
I am after all an eternal student, and always looking to see how I can improve my teaching.  All of this has led me to a much greater appreciation of teachers.  While everything in the past year has been happening over Zoom, I am still so impressed with the teachers I choose to remain with, and their dedication to passing along their knowledge.  I am so honored to be a part of the tradition of passing wisdom from teacher to student, and take my role in this very seriously.
I know there are so many who abuse this position in various ways – taking advantage of their students sexually, physically, financially, and certainly emotionally.  In witnessing how many in the yoga and wellness community use their platforms to promote division and fear is disheartening, yet also gives me motivation.  It motivates me to keep looking at what I am doing, what I am selling (lets be honest, I need to earn a living to keep food on my table), and my level of transparency, honesty, and integrity in doing so.  I've wrestled a lot with whether I appropriate Indian culture, and have made some changes to be a better teacher of where yoga's roots lie.  I have looked at how I can better serve the people in my adopted country, who often don't have access to yoga.  With five paying students in my teacher training, I offer a scholarship to a Costa Rican who is eager to bring the gifts of yoga back to their community.
What I have come to value most in my teachers are the following qualities that they have so well modelled for me, and that I work hard to pass along in my teaching.
From my first teacher, Terri McBride:  a genuine caring for each individual student and how she could best serve them.  Clarity and honesty about who she was in that moment, and a lot of humor and grace.  Terri lit the flame of a deep and life lasting love of yoga within me and I deeply bow to her daily.
From my second teacher, Lillah Schwartz:  an amazing ability to see what each individual student needed and a masterful teaching to that.  Exacting in her teacher training, she scared the crap out of me, yet this is what motivated me to work hard to meet her high standards of what it takes to be a good yoga teacher.  Her comment to me when I went back to study with her after being here in Costa Rica for some years:  "Mary, you can't just go and live on a mountain and expect to keep up with what is the current and best information."  So right, and a true master teacher.
From my third teacher, Everett Newell:  Fed my craving for a better foundation of yoga philosophy, and further techniques of Hatha Yoga.  I learned more about the popular vinyasa form of yoga, and how it can be a tool for working up a good sweat and how to design a well-rounded class.  I also learned the valuable lesson of what happens when your actions don't match your words, and that a teacher always has blind spots.
From my fourth teacher, Joe Barnett:  I was thrilled to get to study with Joe as his main teacher, Paul Grilley is the expert on functional anatomy applied to yoga.  Joe was an amazing and clear conduit of all things related to how each body is unique along with an expert in yin yoga.  Joe taught me that its ok to acknowledge what you don't know and to be passionate about what you do know.
From my fifth teacher, Christopher Wallis:  Although he says to not call him my teacher until I study with him in person, that hasn't yet been accessible to me, and I've spent hours learning from him.  His integrity, depth of knowledge, and honing in on his teaching is a great light to me.  I found Tantra through Christopher and knew that this was the philosophy that most spoke to my heart.  He is the only teacher (besides me) that has said that it all really comes down to love, and he teaches from that place.
These are those who have taught me the most on the path of yoga.  Every time I teach, I honor those on this list as I sit at the beginning, and then I bow to all those who teach me as they come to me as a student.  I had asked for a number of years for my teacher to appear.  Then one day, in deep meditation, my prayer was answered when I was told to open my eyes and see who was right before me.  So a deep bow of gratitude to you, my teacher.  I see you, I hear you, and I value all your lessons.
Till we meet again – so much love,
.

Mary