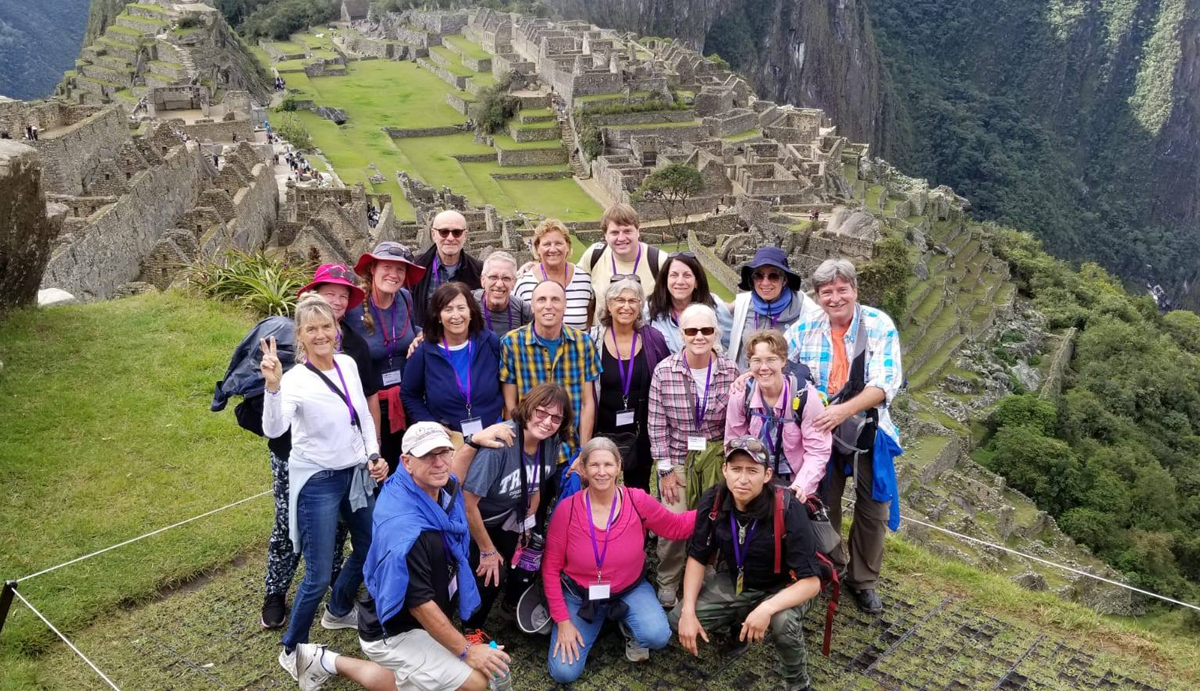 "What an incredible experience!" This was the phrase spoken by all 15 people at the end of each day of our Peru retreat.  It was a magical mystery tour and many of the mysteries were uncovered thanks to our amazing guides, pampa mesayoq (shaman), and healers.  From the opening circle and sound healing to the final OM at the retreat center, from the Sacred Valley to the majestic Machu Picchu, we all felt empowered, blessed, and enlightened by the ancient civilizations and the mark they left on the world.    
Days began with my yoga class tailored to the physical and spiritual path we were to embark on.  A yummy farm to table breakfast was prepared for us with love by Francesca.  We then took off to explore archaeological ruins, learn about Andean cosmology, and the Incan traditions.   
During the week, we visited a total of seven different archaeological sites of Incan times, including a picture perfect visit to Machu Picchu.  Of the three times I have been there, this, by far, was the best for viewing and capturing our visit there in photos.  We were gifted with the sight of a condor circling Huayna Picchu — which only added to our guide's explanation of the significance of the condor to the Andean people.  Our guides:  Jesus, Rauol, and Carmen were excellent — bringing their knowledge forth and answering the numerous questions we had.  We also had the chance to visit the Paru Paru community who live up above the Sacred Valley.  They welcomed us with open arms, showing us their simple yet beautiful lifestyle.  We were humbled by their customs and genuine caring, and the sense of community they shared.  After demonstrating the process of shearing, washing, spinning, dying, and ultimately weaving the wool into gorgeous and colorful works of art, we appreciated even more how the skills that have been passed on from parents to children for so many generations continued to bring them a life that was truly in harmony rather than destroying the nature around them. 
At the end of the week, we all had time for spa treatments, and healing sessions with a Pampa Mesayoq, Don Isidro.  Our last day, he led us in a ceremony to help bless the land and mountain spirits in return for all the blessings we had received during our week.  This powerful ceremony still lives in my heart and has brought some insightful dreams in the nights since.
Going through significant changes in elevation, temperature, and weather, everyone found their personal journey, gracefully negotiating all challenges, and supporting each other along the way. 
We quickly went from new acquaintances to caring friends.  Jesus, our main guide, told us the first afternoon that the Andean philosophy was all about the heart.  We embraced and acted on that from day one and are already talking about coming together again for a Tuscany Retreat in 2021! 
I'm planning a workshop so I can reconnect with many of these folk and others next spring in NYC.  There are so many of us seeking to share informative and healing experiences these days, and I hope to create a gathering in the city that will be just as powerful as the ones in Peru.  If you weren't able to be there on this retreat, I do hope that you can join me there. 
Subscribe to my newsletter if you haven't yet to find out where and when the next event will be.  The calendar over the next year is filling with lots of good stuff–I hope to see you soon to experience the joy of community, the respect for mother earth, and a remembrance of how to live from the heart.

Love and light,
Mary